The holidays are over, the tree is gone, the decorations are (hopefully) tucked away until next year; but what about all the 'stuff' that the kids got? If you're anything like me, the sudden surge of toys and clothes sends the anxiety reeling.
I took some time before the holidays to purge items that the kids don't use anymore. This is super hard for me as we have twins that are almost one (what!?) that will be growing into the toys, but there is just too much! One of my favorite ways to clean out is to ask daycare and our church what they need. For whatever reason, this makes it so much easier for me to part with; just knowing it is going somewhere it will be useful.
So, once the Christmas parties were over and I had mentally prepared myself to deal with the mess, I got to work.
We have a bonus room on our 2nd floor that houses all the kid's toys. The Toy Room was a necessity for us from the moment we started drawing up our house plan (even though we were only a family of 3 at the time!). We knew this extra space would be needed for not only toys when they were little, but also a space for them to do homework and hangout as they get older.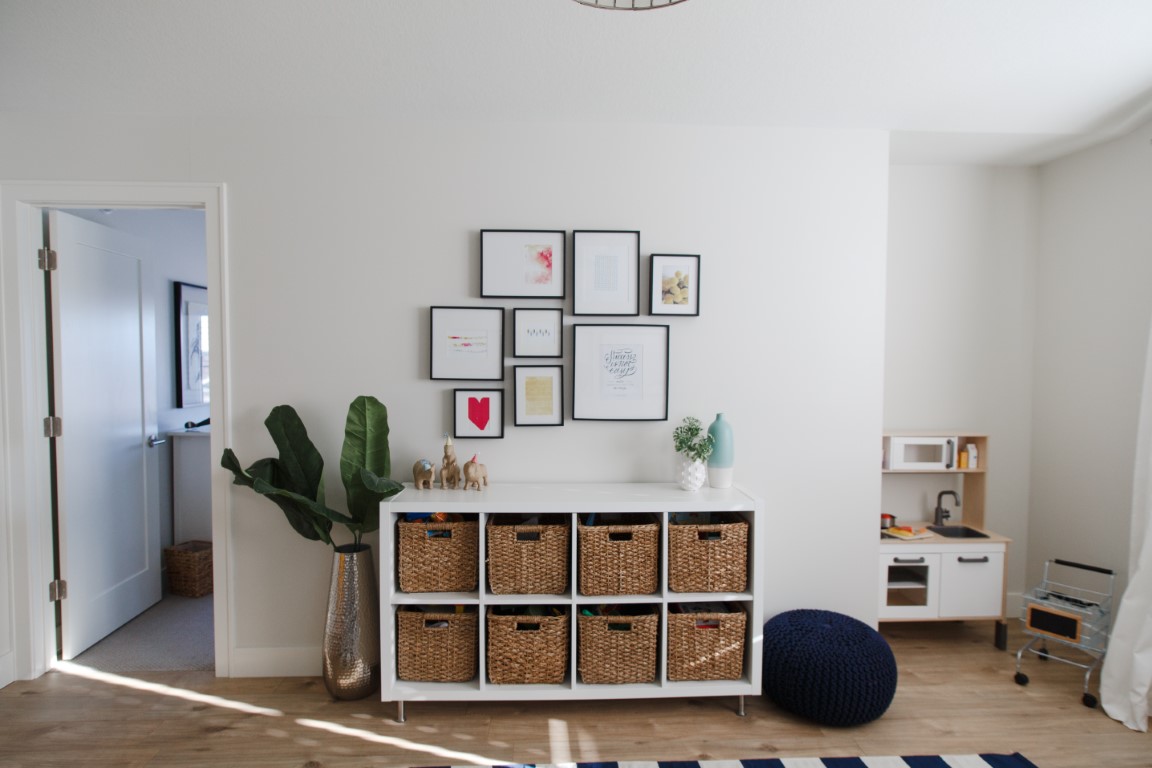 SIDE NOTE: If you are currently in the process of designing a home (or just a note for the future), here are my quick tips for those bonus rooms:
Make it useable square footage! Bigger isn't always better

Furniture tends to get pushed up against the walls which leaves for a large empty space in the middle of the room. This is great for little kids to run and play, but keep in mind furnishability down the road.

Nooks work well for making the space feel more unique and double as a space for added detail

We currently use our two nooks (roughly 3') for a toy kitchen and a workbench. Down the road we hope to add a reading bench with sconces on one side and a desk for homework on the other

Keep it bright

No one wants to play in a dungeon, so make sure there is plenty of natural light and artificial light for the evening.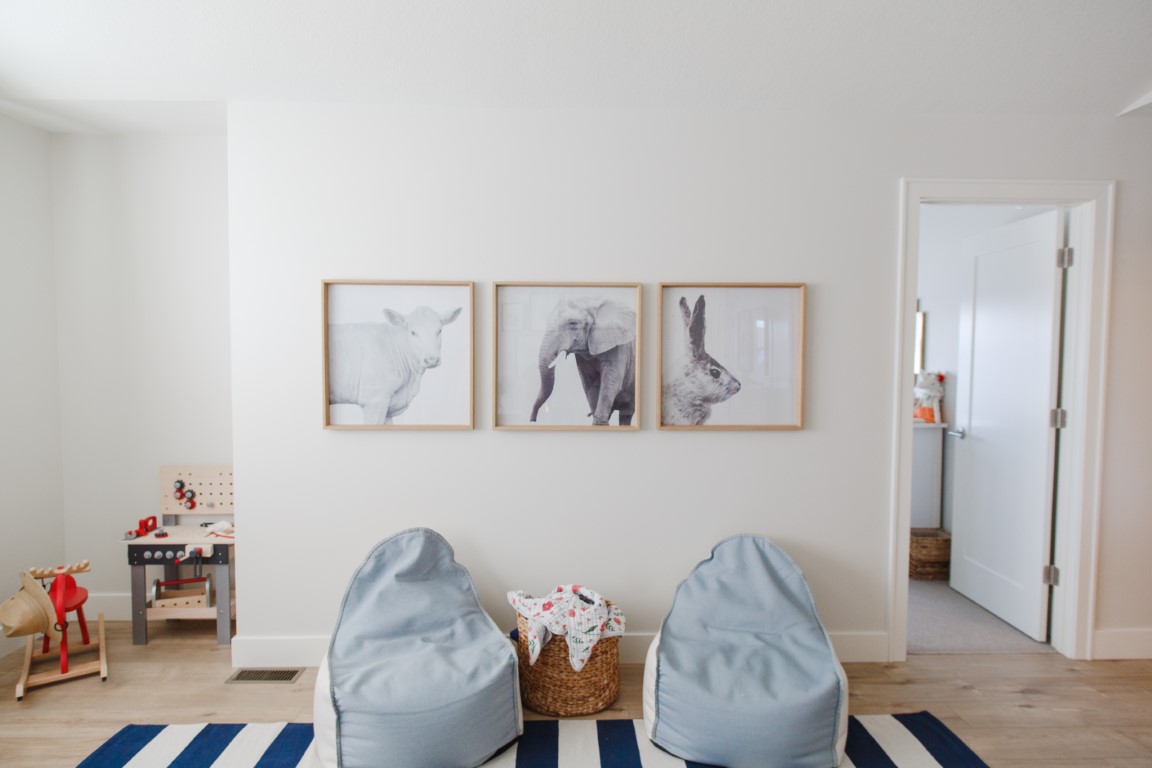 In our house, we also keep one side of our fireplace built-ins dedicated to kids toys. It's mostly books, art supplies and smaller toys, but it's enough to keep an eye on the kids while making dinner, etc. I didn't feel like we could send them upstairs alone until they were 3-4 years old. Now our oldest is 5, so I can send him and his little sister (3) upstairs to fight and leave mom in peace 😉
I have also had clients convert their main floor office into a temporary toy room which can be a slam-dunk idea…if you can keep it tidy (IMO!). The main floor office is typically close to the entry and visible to anyone that comes over. If you have solid-doors and can close-off the mess, super simple solution.
We don't have doors to our toy room, so we try to hide/organize as much as we can to keep the space looking tidy-ish. We try to have the kids keep the living room picked up on a daily basis, but we only worry about the toy room once a week. They have dolls/Legos/grocery stores/whatever set-up and I think it's important that they are able to resume playing without pulling everything out every day. The weekly sweep just keeps everyone accountable for the mess.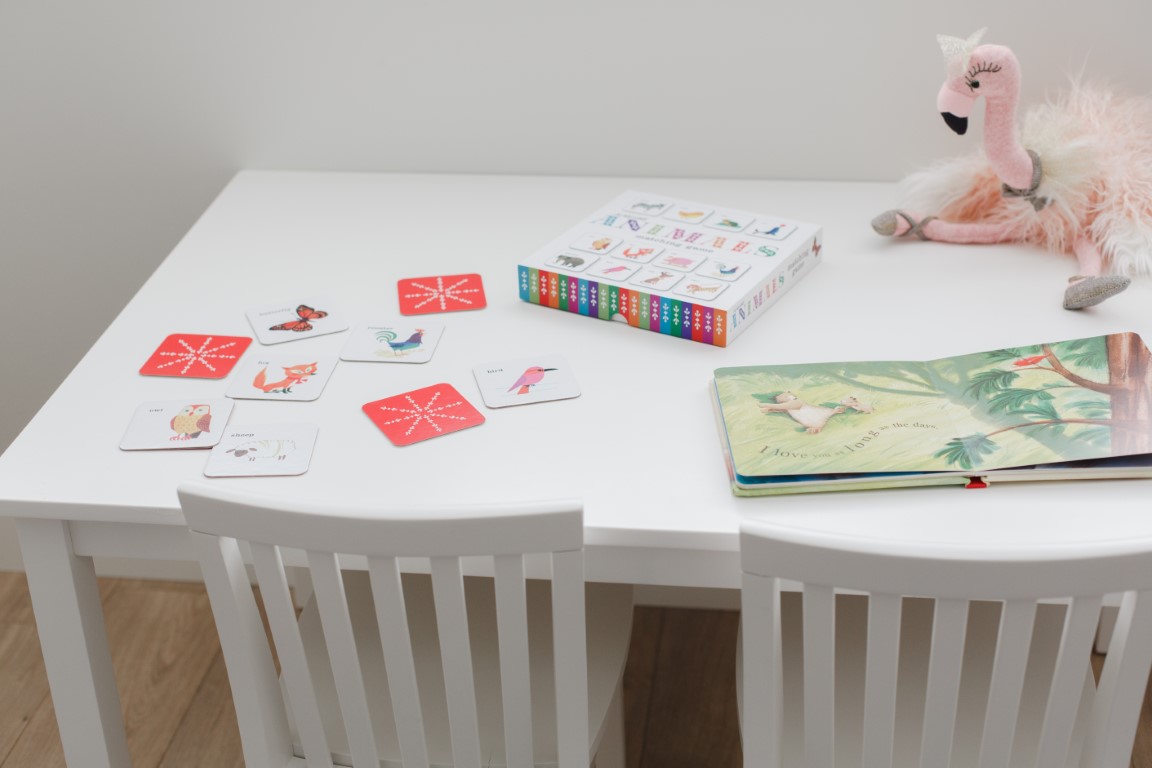 Here are my tips for getting all of the toys organized and looking neat:
Baskets, baskets, baskets

These are easy to keep the toys separated so you know everything has a place. It is also helpful in teaching your kiddos to clean up and keep themselves organized (this is a big one for us thanks to Montessori!)

Closets

If you can, design a closet into the space to tuck larger toys away when they aren't being used. Our closet is the host to ride-on toys, a hockey net and Lego table. We also keep toys that aren't being used in the closet. There is no use in having infant toys out if there's no baby in the house! However, these toys are often used for guests or want to be kept for future children. Keeping them tucked away cuts down on the clutter and is less distracting for the kids.

Seating

I like to have 2 types of seating. Casual seating for reading and snuggling, and more structured seating (a table and chairs) for crafts, puzzles and games. Having separate areas also allows the kids to play in their own areas and (hopefully) mitigate some of the arguing.

Other

Think about the flooring that you have. We opted to go with a hard surface as you never know what kids are going to do or spill (pee, chapstick, markers, juice… the list goes on over here!). We found an oversized rug to put over the laminate which is a lot cheaper than carpet to replace should something go wrong.
Wall art – places like minted have phenomenal art for kids. We used wire and clips from Ikea to display the art our kids bring home from daycare and school. It doubles as decoration and they love to see their work on display. Maps, white boards, chalk boards and family photos are all great ways to keep the space kid friendly and looking classy.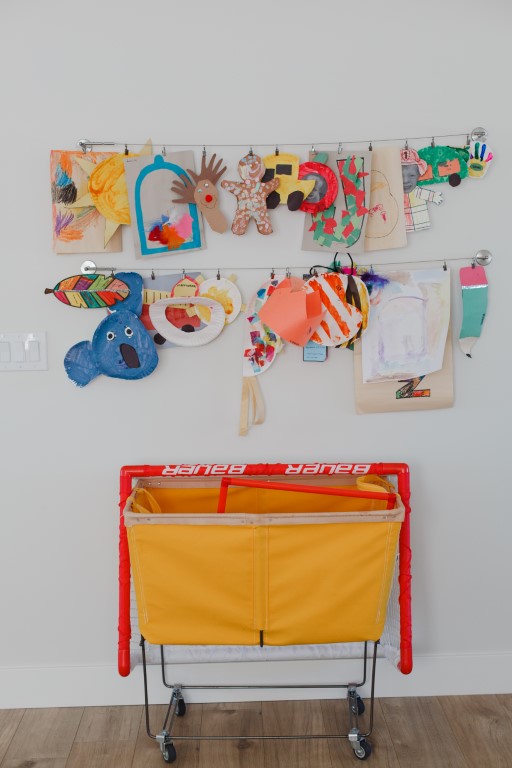 I wish I could say that our toy room currently looked like this, but it doesn't. I had all the Christmas gift additions integrated, organized, and torn apart before Christmas break was even over!  Good news? Within 5-10 minutes, I can throw, shove, and shut everything up to look 'organized' before company comes! 😀
xx- Kirsten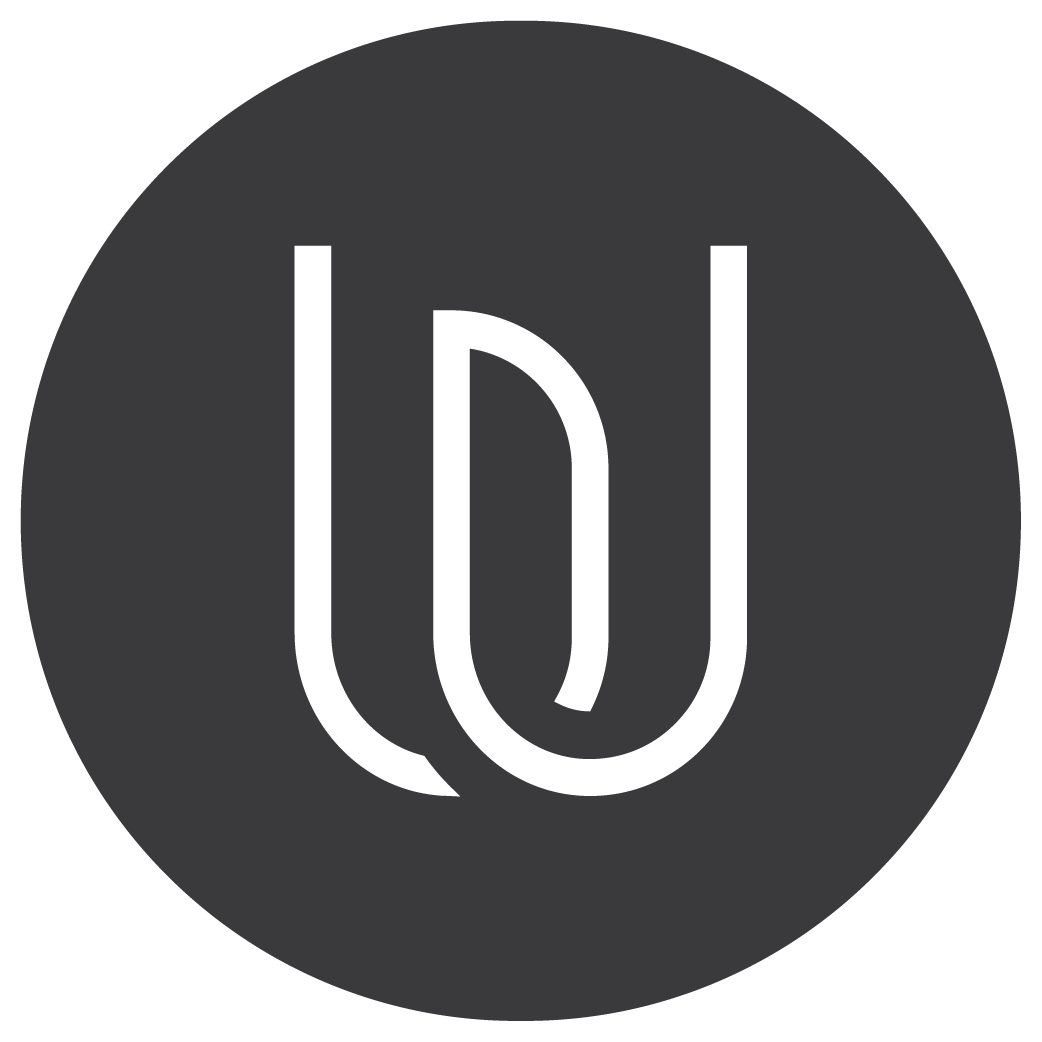 2630 2nd street east
West Fargo, ND 58078
Lic # ND 56609, MN BC753779
© 2023 Studio West Homes, LLC